WEATHER STATIONS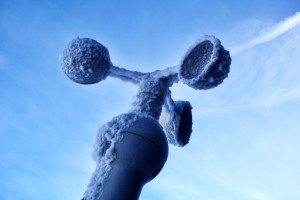 Weather stations can now be protected with the help of the ICEFREE weather stations service.
With an easy implementation during summer, the ICEFREE weather stations service offers permanent ice protection of weather sensors, stations structure and of wind parameters registration poles.
By sealing the equipment with an ICEFREE solution transparent film, ice can no longer accumulate in worrisome amounts for weather stations.
Each year during winter weather stations located in wind farms or in the public stations system suffer from damages and disorder of registration accuracy.
Ice and plentiful snow prevent the collection of vital data for many industries and also for the population.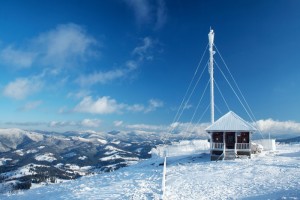 The wind, air flight, railway and road sectors can be paralyzed for long periods of time due to the lack of real time weather data, leading to large material damages.
Structures up to 100 meters are perfectly safe with ICEFREE.
Use the ICEFREE ice protection services and enjoy maximizing your investments!
How it works?

ICEFREE weather stations provides a "Sol-Gel Technology" coating known under its chemical name of Nanotechnology.

The ICEFREE weather stations special properties make the contamination particles such as water or ice not to stick to underlayers and/or allow them to be removed easily by wind or by its own weight.

Main characteristics

Special ice protection properties, reunited for the first time in a single ICEFREE weather stations service:

Protection against ice and snow deposit on wind, rain, humidity sensors, etc.
Anti-adhesion of polluting or toxic and corrosive substances
Ice protection layer highly resistant to scratching or damaging
Anti-corrosion
Non - toxic
Anti-grafitti protection

Benefits

ICEFREE weather stations increases the accuracy of weather measurements during winter by protecting measuring equipment against ice and snow
Significantly reduces weather measurements errors
Reduces the ice deposit leading to the annual fall of high weather stations or of wind measuring poles.
Extends the life of weather station elements
Saves time, money and logistics

Images