ROOFS AND DRAINPIPES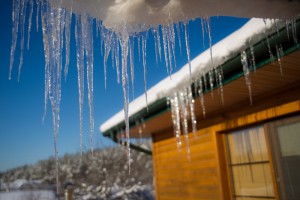 In order to prevent the damages caused by the ice, ICEFREE has invented the ICEFREE roof service.
By sealing the roofs and drainpipes with an ICEFREE solution transparent film, ice can no longer accumulate in worrisome amounts.
Each winter ice and snow damage and distort the roof gutters and drainpipes, regardless of your roof system.
They lead to distortion and to the accumulation of huge quantities of icicles and frozen snow.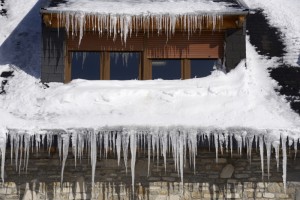 Each year people and goods are severely damaged by accidental snow and ice falling from buildings.
With low implementation costs, ICEFREE roof eliminates the accidents danger and the damages caused to your roofs.
ICEFREE roof is an ecologic service which makes your life safer and easier during winter.
Use ICEFREE ice protection solutions and enjoy maximizing your investments!
How it works?

ICEFREE roof provides a "Sol-Gel Technology" coating known under its chemical name of Nanotechnology.

The ICEFREE roof special properties make contamination particles such as water or ice not to stick to underlayers or/and allow easy removal from gutters, drainpipes and roofs.

Main Characteristics

Special ice protection properties reunited for the first time in a unique ICEFREE roof service:

Protection against ice and snow deposit on roof systems
Anti-adhesion of polluting or toxic and corrosive substances
Ice protection layer highly resistant to scratching or damaging
Anti-corrosion
Non - toxic
Anti-grafitti protection

Benefits

ICEFREE roof reduces up to 100% the maintenance costs of roof systems during winter
Reduces to zero the ice and snow fall risks causing each year human and material damages
Increases the safety of public and private buildings during the cold season
Extends the life of gutters and drainpipe systems
Saves money, time and logistics

Images