UTILITY POLES AND CABLES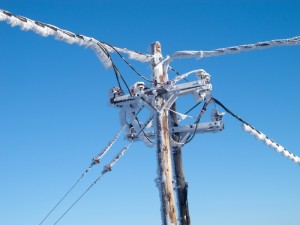 With low implementation costs, the ICEFREE electricity service offers the solution for eliminating blackouts due to ice and heavy snow deposits on the electricity networks.
By sealing the equipment with an ICEFREE solution transparent film, ice can no longer accumulate in worrisome amounts.
Winter is certainly not the friend of electricity networks.
In the case of heavy ice deposit, cables are subject to a phenomenon called "pitching". The distance between phases is getting so much smaller that an arc is triggered.
Another phenomenon often seen in winter is the cables braking because of the ice weight under the wind action.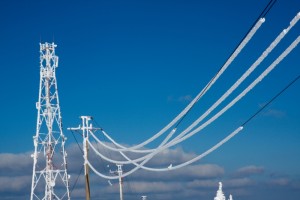 Strong wind and frost annually affect tens of transformer stations and power lines, isolating entire places.
Servicing and maintenance costs for transport and electricity production costs are very high in winter.
Use the ICEFREE ice protection services and enjoy maximizing your investments!
How it works?

IICEFREE electricity provides a "Sol-Gel Technology" coating known under its chemical name of Nanotechnology.

The ICEFREE electricity special properties make the contamination particles such as water or ice not to stick to underlayers and/or allow them to be removed easily by wind or by its own weight.

Main characteristics

Special ice protection properties, reunited for the first time in a single ICEFREE electricity stations service:

Protection against ice and snow deposit on all electric network elements
Anti-adhesion of polluting or toxic and corrosive substances
Ice protection layer highly resistant to scratching or damaging
Anti-corrosion
Non - toxic
Anti-grafitti protection

Benefits

ICEFREE electricity significantly reduces blackouts during winter due to the electric arc phenomenon
Frees poles and cables from the ice weight and eliminates the danger of collapsing
Extends the life of all electric network elements frequently damaged by ice
Saves time, money and logistics

Images