PHOTOVOLTAIC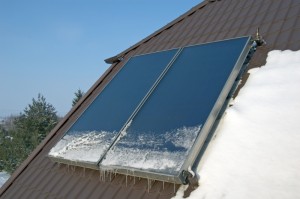 ICEFREE PV panels is the only fast and cheap service against ice and snow that once implemented maximizes the sun exposure time of photovoltaic panels, therefore increasing the electricity production during winter months.
By sealing photovoltaic equipment with an ICEFREE solution transparent film, ice can no longer accumulate in worrisome amounts for the electricity production.
What happens with the efficienty of photovoltaic panels when it snows?
Solar panels can operate at maximum capacity after a light snow, but once covered by snow, their productivity is ZERO.
What could be done?
One of the solutions is snow hand removal risking that the panels get damaged by the cleaning instruments. Once deposited, ice must be cleaned with sharp objects which immediately destroy the connection system between photovoltaic cells.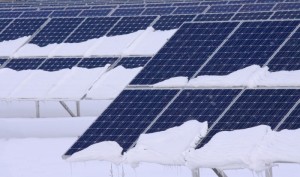 ICEFREE PV panels can be applied on any kind of solar panel and provides a protective coating, is completely transparent and protects photovoltaic panels from ice and snow.
During winter when sun radiation is low and fallout is plentiful, photovoltaic panels can be covered by snow and especially by ice for months. Use the ICEFREE ice protection services and enjoy maximizing your investments!
How it works?

ICEFREE PV panels provides a "Sol-Gel Technology" coating known under its chemical name of Nanotechnology.

The ICEFREE PV panels special properties make the contamination particles such as water or ice not to stick to photovoltaic panels.

Total transparency
Protection against ice and snow deposit on photovoltaic panels
Anti-adhesion of polluting or toxic and corrosive substances which may affect in time the good operation of solar parks
Ice protection layer highly resistant to scratching or damaging
Anti-corrosion
Non - toxic
Anti-grafitti protection

Benefits

ICEFREE PV panels increases the electricity production by 100% during winter months, when productivity is low due to ice and snow deposit
Reduction to zero of maintenance costs during winter
Easy cleaning of dirt, dust or other deposits due to the non-adhesive characteristics of the ICEFREE solution
Extends the life of electric components damaged due to massive winter freezing
Saves time, money and logistics

Images